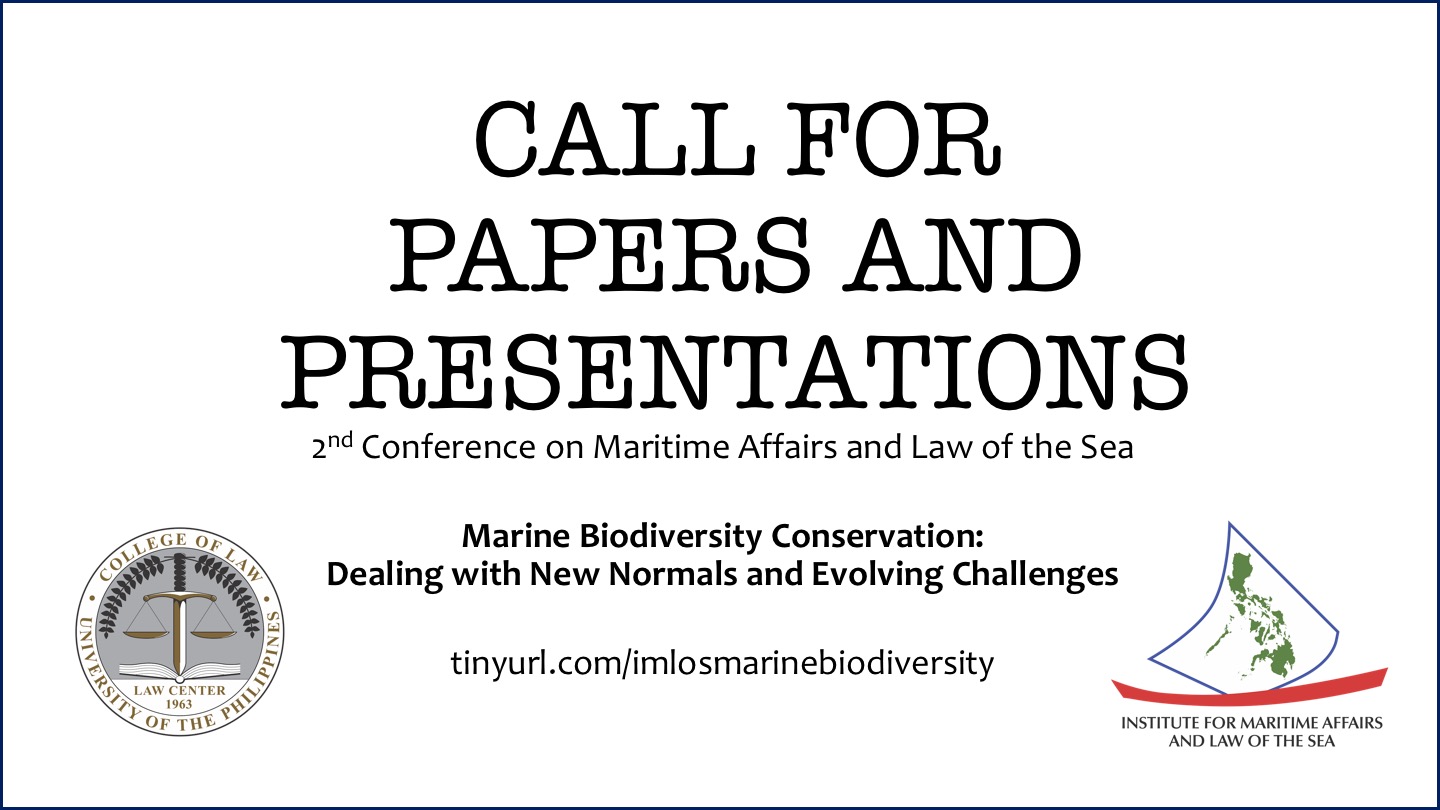 2nd Conference on Maritime Affairs and the Law of the Sea
MARINE BIODIVERSITY CONSERVATION:
DEALING WITH NEW NORMALS AND EVOLVING CHALLENGES 
CALL FOR PAPERS AND PRESENTATIONS
Current trends and challenges in marine biodiversity strongly suggest the need for an interdisciplinary approach in policy and research. The integration of different fields into the marine sciences, in particular, is crucial in crafting effective frameworks to address the twin goals of protection and conservation. Avenues to encourage a plurality of perspectives on marine biodiversity should thus be promoted.
In this context, the UP Institute of Maritime Affairs and the Law of the Sea (UP IMLOS) is pleased to host its second conference on Maritime Affairs and the Law of the Sea to be held on January 3-4, 2017, at the University of the Philippines College of Law. The theme for this year is Marine Biodiversity Conservation: Dealing with New Normals and Evolving Challenges. The conference will thus provide a forum for exchanging ideas on the breakthroughs and special challenges surrounding the field. Participants are invited to present their research on conservation and protection efforts, and contribute towards understanding the interface between practical management and interdisciplinary approaches.
Submissions from students, members of the academe, and representatives of NGOs, government agencies and international organizations are welcome, particularly addressing the following questions:
What are the contemporary challenges in the protection and conservation of marine biodiversity?
Are existing regimes for geographic and jurisdictional governance of marine biodiversity (e.g. territorial seas, enclosed and semi-enclosed seas, EEZs, the continental shelf, the high seas), sufficient for its protection and conservation?
Are the law, the sciences and/or other fields able to adapt to contemporary challenges and future trends in the protection and conservation of marine biodiversity?
Submission Requirements
A one-page abstract must be submitted by e-mail (up.imlos@gmail.com) on or before October 15, 2016, with the following information:
Author's Name
Institutional Affiliation and Country
E-mail Address and Contact Number
After evaluation by the Selection Committee, participants will be directed to submit copies of their final papers by November 21, 2016 for inclusion in the conference proceedings. They shall also be required to furnish the organizers their presentation for the conference in January 2017. Any inquiries may be directed by e-mail at up.imlos@gmail.com, by telephone at (+02) 920 5514 loc. 218, or by website at tinyurl.com/imlosmarinebiodiversity. A modest honorarium will be provided for accepted submissions.